Regain Confidence in your Hybrid Cloud Infrastructure
Don't lose visibility of your middleware platforms and applications when you move to the cloud.
RTView's unique distributed architecture can capture and store data at the edge and provide centralized visibility in a single dashboard for an end-to-end view of your middleware-powered applications running in the hybrid cloud.
---
Distributed Monitoring Architecture
RTView's distributed monitoring architecture is well suited for cloud environments.  Any number of data servers can be deployed close to the target systems being monitored to collect and aggregate data while a central RTView display platform can be located anywhere and only pull data when it is needed for maximum efficiency.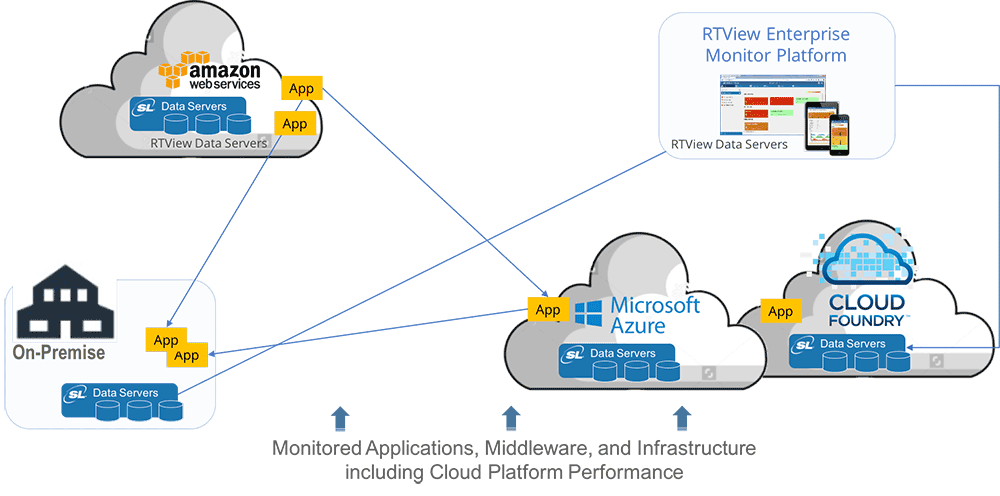 ---
Data Collection and Caching at the Edge
Performance Metrics are collected in real-time, cached in-memory, and are only streamed to central server when needed.
Benefits:
 Alerting performed at the edge

 Highly granular data storage

 Fast access to historical values

 Network bandwidth-friendly

---
Dynamically Discover Elastic Microservices and Containers
RTView handles applications that dynamically respond to user loads by discovering new microservices and containers as they are created and removed so that you have a complete picture of your entire cloud environment.
Benefits:
 Reduced configuration effort

 Historical capacity analysis

 Real-time load monitoring
---
Monitoring Cloud Platforms
RTView also has solution packages so that you can monitor your cloud platforms themselves.  Correlate the performance of virtual hosts with the applications, services and middleware/infrastructure running on them for unique performance insights and hidden connections.
Solution Packages:
Deploy your Monitoring in the Cloud
RTView is available in different deployment options to allow for rapid deployment into the environment of your choice. Locate your monitoring platform close to the services you are monitoring for maximum performance and minimal overhead.

 Amazon
 Pivotal Cloud Foundry
 Microsoft Azure
 Red Hat Open Shift
 Docker
 VMware
 Heroku
 Private Cloud
---
Monitoring as a Service
RTView® Cloud is a hosted data visualization platform that connects to both public and private data streams and content repositories, allowing you to create, share and publish customized, real-time dashboards.  Provide answers to employees, customers, and suppliers – Anytime, Anywhere, on Any Device!
 Mobile-friendly displays

 Build in a browser

 No programming required